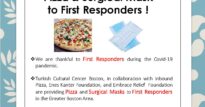 Turkish Cultural Center Boston, in collaboration with Inbound Pizza, Enes Kanter Foundation, and Embrace Relief Foundation are providing pizza and surgical masks to first responders

Upcoming Classes
We, the Turkish Cultural Center, believe that promoting respect and mutual understanding among all cultures.
Turkish Language
You can get Turkish Language instruction in Massachusetts. Learn Turkish the easy way. Experienced teachers have been offering Turkish Language Classes ...
Weekend School
Turkish Cultural Center has proudly been offering Weekend School to the kids of our community since 2011 to help our kids realize their full potential.
Volunteer
Turkish Cultural Center is currently offering internship and volunteer opportunities for the Academic Year of 2018 and 2019. Turkish Cultural Center is dedicated to promote...