Weekend School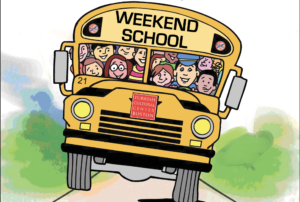 Turkish Cultural Center Massachusetts has proudly been offering Turkish Weekend School to the kids of  Turkic American Community since 2011. Our school is serving primary age children (ages 6-12) according to their individual needs. In order to help our kids realize their full potential, we believe it is essential to provide them with an environment where they could experience and understand Turkish culture.
Our mission is to develop a knowledgeable child who;
* reads Turkish with comprehension,
* writes Turkish with skill,
* communicates effectively in Turkish,
* can co-exist comfortably in a Turkish Cultural environment.
The program is delivered through following courses:
* Turkish Language and Grammar
* Morality of Turkish Culture
* Social Studies of Turkey
The classes are taught by a team of teachers who are ambitious, highly motivated and dedicated to bringing their educational experience and knowledge to the classrooms. We strongly believe that success comes only with the close interaction of children, teachers and parents. Our goal has been to unite teachers' dedication and hard work with parents' feedback and help. Only then, we will be able to raise self-esteemed children who are distinctive members of both cultures.
Please pay tuition here: